| | |
| --- | --- |
| ARM | |
---

ARM is the world's leading semiconductor intellectual property (IP) supplier and as such is at the heart of the development of digital electronic products.
Headquartered in Cambridge UK, and employing over 1800 people, ARM has offices around the world, including design centers in France, India, Sweden, and the US. Over 15 billion ARM based chips shipped to date, 600 processors licenses sold to more than 200 companies, and royalties received on all ARM-based chips.
You will find the ARM microprocessor in your phone, tablet, car, smart card, digital TV, camera, gaming as few exemple…
| | |
| --- | --- |
| CADENCE | |
---

Cadence enables global electronic design innovation and plays an essential role in the creation of today's integrated circuits and electronics. Customers use Cadence software and hardware, methodologies, and services to design and verify advanced semiconductors, consumer electronics, networking and telecommunications equipment, and computer systems. The company is headquartered in San Jose, Calif., with sales offices, design centers, and research facilities around the world to serve the global electronics industry. More information about the company, its products, and services is available at
Created in 1988, Cadence set up a R&D center in Sophia-Antipolis in the south of France in 1997. About 50 R&D engineers work in the Sophia site, focusing on Custom and Digital IC tools.
| | |
| --- | --- |
| CSR | |
---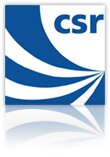 CSR

CSR plc is a leading provider of multifunction connectivity and location platforms. CSR's technology portfolio includes Bluetooth, GPS, FM, Wi-Fi (IEEE802.11), UWB, NFC and other technologies to enable silicon platforms that incorporate fully integrated radio, baseband and microcontroller elements. CSR's Connectivity Centre is designed to enhance the user experience with mainstream mobile devices by intelligent integration of multiple wireless connectivity and location-awareness technologies. CSR's Location Platforms are complemented by wireless connectivity and multimedia capabilities for high-volume mobile consumer devices and commercial applications.

CSR's technology has been adopted by market leaders into a wide range of mobile consumer devices such as mobile phones, automobile navigation and telematics systems, portable navigation devices (PNDs), wireless headsets, mobile computers, mobile internet devices, GPS recreational devices, digital cameras, mobile gaming, plus a wide range of personal and commercial ing applications.


| | |
| --- | --- |
| DELTA | |
---

Looking for a complete ASIC supply chain solution?

Flexibility, quality and competitiveness – DELTA offers solutions at any part of the ASIC development and production process to allow the customer to get the most cost effective combination of services.

We master in-house ASIC design, wafer procurement, packaging using Far East partners, in-house wafer or component test and storage of ICs.

DELTA's experienced ASIC design team is specialised in payment systems, RFID, sensor interfaces and optical chips.
| | |
| --- | --- |
| FUJITSU SEMICONDUCTOR EUROPE | |
---

Fujitsu Semiconductor Europe is a major supplier of semiconductor products providing advanced systems solutions to the automotive, digital TV, mobile telephony, networking and industrial markets. Engineers from design centers dedicated to microcontrollers, graphics controllers, mixed-signal, wireless, multimedia ICs, ASIC products and software development, work closely with Fujitsu Semiconductor's marketing and sales teams throughout EMEA to help satisfy customers' systems development requirements. This solutions approach is supported by a broad range of advanced semiconductor devices, IP, building blocks and software.
| | |
| --- | --- |
| IMC | |
| | |
| --- | --- |
| MAGMA DESIGN AUTOMATION | |
---

Top semiconductor makers worldwide use Magma's electronic design automation (EDA) software to produce chips for electronic applications including tablet computing devices, mobile devices such as smartphones, electronic games, digital video, networking, military/aerospace and memory. Through its Silicon One initiative Magma unites innovative technology for digital and analog design with our customers' expertise to address time to market, product differentiation, cost and performance, making silicon more profitable.
| | |
| --- | --- |
| MENTOR GRAPHICS | |
---


MENTOR GRAPHICS®

Mentor Graphics® is a technology leader in electronic design automation (EDA), providing software and hardware design solutions that enable companies to develop better electronic products faster and more cost-effectively. The company offers innovative products and solutions that help engineers overcome the design challenges they face in the increasingly complex worlds of board and chip design. Mentor Graphics has the broadest industry portfolio of best-in-class products and is the only EDA company with an embedded software solution.


| | |
| --- | --- |
| ST-ERICSSON | |
---

ST-Ericsson is a world leader in development of wireless platforms and semiconductors. More than half of all mobile phones in use today are enabled by ST-Ericsson's products and technologies – bringing smarter communication, mobile entertainment, as well as benefits of access to mobile and broadband connectivity to people around the globe.
ST-Ericsson is unique in its ability to deliver state-of-the-art platforms, integrating mobile multimedia and connectivity for GSM, EDGE, WCDMA, HSPA, TD-SCDMA and LTE. The company is a leading supplier to the top handset manufacturers, as well as to other exciting industry leaders, including mobile operators and device manufacturers.
| | |
| --- | --- |
| TARGET COMPILER TECHNOLOGIES | |
---

Target Compiler Technologies is the leading provider of retargetable software tools for the design, programming and verification of application-specific processor cores (ASIPs). ASIPs are key building blocks of single- and multi-core systems-on-chip (SoCs) that power today's electronic systems.
IP Designer, Target's flagship product, enables the design of ASIPs with performance and energy characteristics close to hardwired datapaths. Yet these ASIPs provide software programmability, thus permitting changes in specifications and extending the revenue lifetime of SoCs. IP Designer supports ASIP architectural exploration, and generates a complete C compiler based software development kit as well as a low-power hardware implementation for each ASIP.
The tools have been used by customers around the globe to design SoCs for 2G/3G/4G handsets, cordless and VoIP phones, audio/video/image processing, infotainment and security for cars, DSL modems, DSL access multiplexers, wireless LAN, hearing instruments, and personal health-care systems.
Target is also introducing MP Designer, a new tool for multicore parallelisation and design in an SoC context.
| | |
| --- | --- |
| TEXAS INSTRUMENTS | |
---

Since it was created 50 years ago, TI's Villeneuve Loubet site has progressively developed an undisputed expertise in complex, high-integrated semiconductors. Today over 600 designers and application engineers work at the TI Villeneuve Loubet Site, focusing on advanced integrated circuits for Digital Signal Processing Solutions.
The TI Villeneuve Loubet site has established a particular reputation in Wireless Communications, and is the major supplier of application processor solutions for GSM and other digital cellular standards. It is the major focus of the site.